Canon Camera
Canon Camera EOS M6 Mark II
Small Yet Extraordinary
This little bundle of features is so compact and lightweight that you might forget that it inside your bag. EOS M6 Mark II can burst up to 30fps with its RAW burst mode while tracking that the dancer on stage without disrupting others with the silent electronic shutter that goes up to 1/16,000s (freezing any movements by the dancer) EOS M6 Mark II's low-intensity limit of EV -5 ensures accurate focus in the dimly lit performance hall and the ISO sensitivity of up to 51,200 enables well-lit images. You could record the performance with EOS M6 Mark II's 4K video recording in uncropped or cropped mode, getting the full view of the huge hall or have more zoom to get the expression of the dancer..
32.5MP APS-C CMOS Sensor + DIGIC 8
Dual Pixel CMOS AF
30fps RAW burst mode (One -Shot & Servo AF)
v5,481 selectable focus positions
Eye Detection AF (One-Shot & Servo AF)
4K Video (Uncropped/Cropped)
Canon Camera EOS M50 AF
Brilliant 4K movie shooting and excellent AF performance with DIGIC 8 image processor
A stylish mirrorless camera equipped with a high-resolution electronic viewfinder, large grip, and Vari-angle touchscreen LCD monitor on a compact body. Capable of continuous shooting at up to 10 fps (One-Shot AF), and has an expanded ISO of up to 51200. Also supports 4K movie shooting1 and 4K time lapse movies. The 24.1-megapixel APS-C size image sensor offers powerful depictive performance for beautiful, high-resolution photos and video. Comes with a Silent scene mode for shooting with no shutter sound.
24.1 megapixel APS-C CMOS Sensor (featuring an improved Dual Pixel CMOS AF)
DIGIC 8 image processor, supporting ISO 100 – 25600 (expandable to 51200)
0.39 type, approx. 2.36 million-dot OLED EVF
Movie shooting in 4K 23.98p / 25p
5-axis image stabilization during movie shooting (Combination IS)
Canon Camera 5D MARK IV
High Performance All-Rounder.
The 4th generation model of Canon's best-selling full-frame EOS camera EOS 5D Mark IV comes equipped with 30.4-megapixel full-frame CMOS sensor and highly sought-after Dual Pixel CMOS AF. High-speed, high-precision AF is realized not only for stills, but also for 4K movie shooting, making pro-level footage a possibility.

Canon Log is also made available for users who are looking to shoot serious video footage. With this firmware upgrade, the dynamic range increases up to 800 percent, providing approximately 12 stops of dynamic range, even in low light..
30.4MP Full-frame CMOS Sensor
Dual Pixel CMOS AF
4K Movie Shooting (25 / 30p) with 4K Frame Grab
Canon Log Capability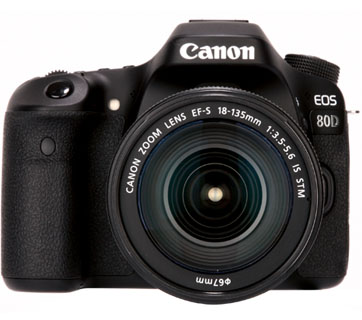 Canon Camera EOS 80D
Enhanced Dual Pixel CMOS AF, 7.0fps Continuous Shooting - Capture Images One Step Ahead.
The EOS 80D boasts a viewfinder coverage of approx. 100%. The newly-developed 45-point, all cross-type AF sensor and continuous shooting speed of up to 7.0fps makes it an excellent choice for capturing moving subjects. Movie shooting at a quality of up to Full HD 60p is also supported, and Dual Pixel CMOS AF, which makes it possible to achieve high speed AF during Live View shooting, has been enhanced to be compatible for use with all EF lenses. Remote shooting and image sharing with smart devices is also made simple as the camera supports Wi-Fi and NFC..
24 MP APS-C CMOS + DIGIC 6
45-point All Cross-Type AF
Dual Pixel CMOS AF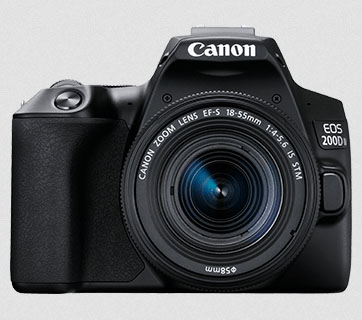 Canon Camera EOS 200D II
Jazz up your everyday photography.
EOS 200D II is Canon's lightest DSLR with a Vari-angle Touch Screen LCD. Weighing only a little heavier than a bottle of water*, the camera slides right into your bag for that everyday photography. Packed into its petite body is Canon's 24.1-megapixels APS-C CMOS sensor, DIGIC 8 processor and a bunch of features that would make snapping your everyday life seamlessly easier.

First time incorporated into an EOS DLSR, Creative Assist and smooth skin feature would allow you to achieve desired effects on your photos and easily take picture perfect selfies. Stay connected to the camera with the Low energy Bluetooth connection and send images to your mobile devices as you shoot for ease of sharing.

The EOS 200D II is designed for comfort with its deep grip and ergonomically laid out function dials. With Black, Silver and White to choose from, it is sure to adds a statement to your lifestyle..
24.1MP APS-C CMOS Sensor
Dual Pixel CMOS AF
DIGIC 8
3,975 selectable focus positions (Live View)
EV -4 focusing limit
Eye Detection AF (One Shot & Servo AF – Live View)
Other Products
CANON EOS 5D SR | CANON EOS 77D | CANON EOS 6D MARKII | CANON EOS 200D | CANON EOS 1500D | CANON LENSES RF15-35 | CANON LENSES RF24-70 | CANON LENSES RF24-105MM | CANON LENSES RF24-240MM | CANON LENSES RF85MM | CANON POWER SHOT | CANON POWER SHOT PSG5X MARKII | CANON POWER SHOT G7 X MARKII | CANON POWER SHOT G1X MARKIII | CANON POWER SHOT G3X | CANON POWER SHOT G9X MARKII | CANON SELPHY CP1000 | CANON SELPHY CP1300 | CANON IXUS 285HS | CANON IXUS 190 | CANON IXUS 185 | CANON VIDEO CAMERA | CANON VIDEO CAMERA XA50/55 | CANON VIDEO CAMERA XA11/XA15 | CANON VIDEO CAMERA XA40/45 | CANON VIDEO CAMERA XF705 | CANON VIDEO CAMERA XF405 | CANON VIDEO CAMERA C200 | CANON VIDEO CAMERA C100 MARK II | CANON VIDEO CAMERA C300 MARKII